Hi Folks,
You know, a post on social media only lasts a few minutes. All your hard work goes down the drain after that.
The secret to getting the most out of your posts is recycling content. That is exactly what this program does…
You find or add content to a 'Jukebox' and schedule when you want to post items from that jukebox.
What's really great is that you can fill your social media accounts with red-hot content, found straight in the app, and it will also post native videos to Facebook, straight from YouTube. It's very powerful.
A similar tool to this is MeetEdgar which costs just under 50 bucks a month. You can pick this tool up for just 37, for a one-time lifetime fee.
Product Review:
Let's be really clear, I love a lot of the social media tools that we have found for you but none of them leverages the power of evergreen content.
SociVideo Jukebox does, however. It's a desktop application created using Adobe air (so it will easily run on both a Mac and PC) and the whole point of it is to put your content into "jukeboxes". Each jukebox then gets scheduled (which you have full control over) and once the program has used up all of the posts in that jukebox, it starts from the top and post them all over again.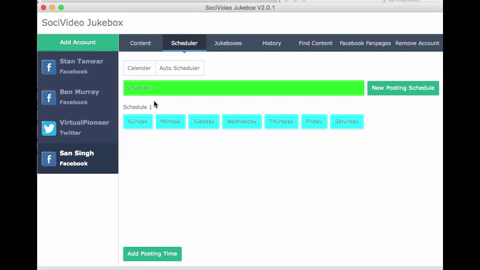 To understand what's really great about that you have to understand a little bit about the statistics of social media.
Whether you post to Facebook or twitter, the life of your post is only around about five seconds on somebody's timeline. This means that you can spend an awful lot of time creating posts that end up being skipped over.
With the power of evergreen content, however, you get a chance to put those signposts in front of your viewers again. This means that for each piece of content you can create your increasing engagement. By using this tool to do it, you are doing that automatically.
Another very powerful feature of the software is the ability to post content, straight from YouTube, as a native Facebook video.
We Facebook giving so much more weight to video than text posts (and with video even eight performing image posts) that alone makes this tool incredibly valuable if you're trying to engage users.
The developers of the software really have thought through the different challenges that you would face by using recycled content. They give you some very powerful tools in order to find viral content that you might want to share with your followers and that can be automatically added to any jukebox. As well as that you have the option to auto-post content from RSS feeds all keyword searches.
The one problem with the software is that it is desktop based and, to make this work most efficiently, you need to have it running on a computer all the time.
That, however, is a very small price to pay. Some people might want to run this under a virtual computer on a VPS or just leave it running on your old laptop. Either way, the results that you get far outweigh the inconvenience.
Product Highlights:
❖ Post 'native' videos over & over hands-free
❖ Posting queues that smartly 'schedule themselves'
❖ Schedule once, then post over & over on autopilot
❖ Add & schedule from RSS feeds
❖ Search for & post relevant, viral
❖ Recycling technology triples traffic
❖ Find proven, engaging content to curate fast
❖ Post a mix of content all day long, hands-free
What We Like:
✔ Very smart software
✔ Native video posting is amazing
✔ Evergreen content is a must-have social media strategy
What We Didn't Like
✘ Needs to run from a desktop PC
Our Verdict
| | |
| --- | --- |
| Simplicity: | |
| Quality: | |
| Function: | |
| Usefulness: | |
| Value: | |
| OVERALL: | |
Offer Validity
Currently: $37
Enjoy!