Hi Folks,
I bet you've got (or at least know) of a great page builder, right? But, I also bet that most of you get stuck when it comes to writing copy for your sales pages.
Wouldn't it be great if you could just answer a few questions about your target market/product and have your page builder write all of your copy for you?
Check out the demo of the page builder that does just that… If you get stuck on copy, this platform has your back.
The best thing about this software is that they don't just dump a bunch of templates on you and expect you to do the rest. You get over 25 dynamic templates and proven sales copy that converts.
And, of course, you can change every element of the page before publishing, it's all up to you.
To really compete online you need…
❖ A high end page page builder
❖ Super fast hosting
❖ Proven sales copy
❖ An easy funnel creator
That would likely set you back hundreds (if not thousands with proper copywriters) every month.
This solution gives you all of those things for a one time fee of $197.
But, don't take our word for it. Check it out whilst this early-bird offer is still on. The price goes up to 297 bucks by the end of the launch!
Product Review:
When I first heard about Converzly, I was sceptical. Over the past few years, we have seen a tonne of page builder's come on the market that do nothing more than really give you a few pretty templates to play around with.
But, Converzly promised to be something different by focusing not on the design as much but on the actual marketing of the product.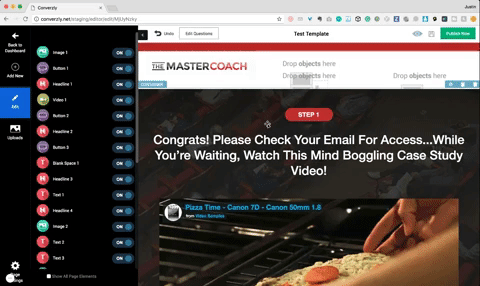 Having had a chance to play with both the page builder and the smart content engine, I can safely say that this is a piece of software built to make you money.
What do I mean by that?
Traditional page builder's take the idea of having a template and then you editing that template. Whilst there are over 30 designs available in the member's area for Converzly, that's not really what this product is about.
Having said that, the designs that are available look very good and should convert well across multiple niches. If there are elements that you are not hundred percent happy with, it's easy to change and manipulate the page to suit your individual needs.
But, the real benefit of having this piece of software is the fact that it will write copy for you. Of course, it doesn't automatically generate this on a case-by-case basis. You have to answer questions that will be used to build the copy on the templates you selected.
Each template has a slightly different selection of questions in order to get the optimal copy for the page you requested.
But, it doesn't stop there. The templates that are included are perfect for webinars, thank you pages, sales pages, website pages and joint ventures. There may not be a lot of templates, but they have thought of the ones that are most useful.
And, that's not all. The team behind Converzly wanted to build a simple three-step system for creating pages. I'm pleased to say they managed it.
You simply choose the type of page you want, customise the look and feel and then you can publish any platform. It really is that simple.
To think all Converzly as just another page builder is really to miss the most important parts of what it can do. Every marketer needs a good page builder, fast hosting, decent sales copy and quick and easy solution for getting all of these things online. This is where Converzly truly shines because, for just the cost of one of the high-end premium page builder's, you get all that for one-time fee.
It should be pointed out, this is only for the early bird offer I don't know how long that's going to last. I suspect we'll see prices jumping up to a monthly fee very quickly because this really is a very good offer.
If you're just looking for page builder then, honestly, this probably isn't the software for you. If you can see the benefit of having high end copywriting, hosting for all of your pages as well as a suite of tools to help you build high-converting sales and landing pages, you will likely think this is a deal not to be missed.
Product Highlights:
❖ Powerful website page builder
❖ Integrated "copy engine"
❖ Drag and Drop editor
❖ Premium hosting included (for your pages)
❖ 100% cloud-based
❖ Seamless platform integration
❖ 100% mobile responsive
❖ Custom domain mapping
❖ WordPress plug-in included
❖ HTML publishing option
❖ Built in conversion boosters
❖ Statistics included
❖ 30+ premium templates included
❖ Unlimited pages
❖ Unlimited page visits
❖ Premium training
❖ Industry-leading support
❖ Updates included
❖ Incredibly beginner friendly
❖ Massive timesaver
What We Like:
✔ Really thought about marketing a product, not just providing pretty tempaltes
✔ Saves you money on the high-end pagebuilder software
✔ Includes conversion boosters like countdown timers & exit pop-ups
✔ Completely editable pages
✔ Spell-check & grammar tools included (amazing that no one has done this before)
✔ "Power word" replacement feature
What We Didn't Like
✘ Not as many templates as we would have liked
✘ Missing integrations with some popular Autoresponders
Our Verdict
| | |
| --- | --- |
| Simplicity: | |
| Quality: | |
| Function: | |
| Usefulness: | |
| Value: | |
| OVERALL: | |
Offer Validity
Currently: $197
Enjoy!