Hi Folks,
Facebook messages sent through the messaging software have a 100% delivery rate. It's great, but what if something happend to your Faccbook account?
You could end up with no list at all.
Now there's a new tool that will help you get prospects from your facebook page on to your own autoresponder list, keeping you safe.
What I love about this is that your subscribers opt in to your list with one click. They don't even need to enter their email. What's more, it works inside the Messenger app (giving you 100% deliverability) and it will work with groups too.
If you're collecting leads with Facebook (and if not, why not?), this is not only going to give you piece of mind but also help to get more sales.
Cyber Tactics Top Tactic:
To make this work you will need an irresistible offer for your lead magnet, a great product to sell (or to be an affiliate of) and an autoresponder with automation.
Set up a landing page where people can get your lead magnet and then create a link using MSGLeads that directs to that page.
Setup your automated autoresponder to send out the following:
❖ One welcome email
❖ Wait one day
❖ One email with valuable information
❖ Wait one day
❖ A second email with valuable information
❖ Wait one day
❖ A pitch for your great product
At that point, not only will people be getting on to your list but at least some of them should be buying the product that you are recommending at the end of the sequence.
This is just one way that you can use this software to help make you money.
Product Review:
Everybody loves Facebook. In fact we have seen more products released for Facebook marketing in the last year than ever before.
Connected with that is Facebook messenger, which has the ability to deliver 100% of your messages into your recipients message Box. That is an amazing thing to accomplish, but if you ever have your Facebook account compromised, shut down, or targeted by someone then you could lose all of those leads.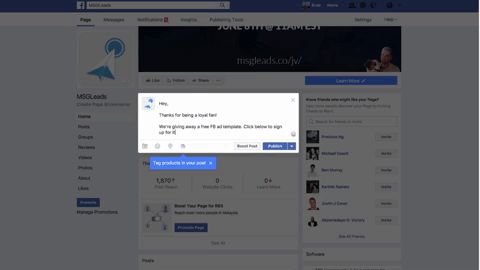 The answer to that is simple, you need to run a separate autoresponder list alongside your Facebook marketing. Getting this achieved, however, is difficult because to even get 50% of your Facebook contacts onto your autoresponder is a difficult task. That doesn't even take into account those people who dropout when asked to enter that email.
This is where MSGLeads comes in. This is a piece of software that sits between you and your messages and provides links that, when clicked, take people not to a sign up page but to a simple button they press to access your offer.
What's even better is that this is completely within Facebook's own terms of service and means that your prospect never has to leave Facebook in order to get your offer.
Inside, the software is broken down into several steps. A handy dashboard shows you how many autoresponder as you have connected, the campaigns you have running and the amount of leads you connected.
Integration is simple, it connects to Facebook via a Facebook app (see if you've used any type of software like this before you, you'll be familiar with that) and that is a list of the most popular autoresponder is that it connects to natively as well.
As well as having training and support available, you also have access to analytics which are taken from each campaign you create. You can even export your leads, if you wish.
Creating the campaign itself is very simple. You have a five-step process which allows you to select the type of campaign you want to run, the autoresponder you want to use to run it, the list you want to connect to, the URL you want to send people to and will finally generate the campaign for you.
The types of campaign are quite wide-ranging, from a simple link to a full chat box. Training is included with the service so you will quickly understand how you can set all of these things up.
All in all, this is a very simple set up process and you can start getting your links out to your prospects as soon as possible.
It should also be noted that there is a lovely little newsfeed template builder, that will allow you to post the exact type of content that your users are more likely to click on.
Because of this, the software will work in pages, groups and with the official Facebook messenger software. This means that you will be getting that 100% delivery rate that Facebook is famous for.
On the whole, this is a fantastic tool and I can see real potential for it when used in conjunction with other Facebook marketing.
Product Highlights:
❖ Turn every Facebook prospect into a LIFETIME LEAD
❖ Automatically sync your FB page into email leads
❖ Once set up, let it run on complete auto-pilot
❖ Collect leads insode Facebook without your prospect ever actually leaving FB
❖ Build trust, loyalty and engagement
❖ Reduce your Facebook advertising spend
❖ Sync 100% Verified Emails Automatically
What We Like:
✔ Very simple to create campaigns
✔ User doesn't have to leave Facebook
✔ Nice News Feed template builder
✔ Good for all levels of Facebook marketing
✔ Ties into third-party FB Messenger Software
What We Didn't Like
✘ Works best with a seperate facebook messaging bot
Our Verdict
| | |
| --- | --- |
| Simplicity: | |
| Quality: | |
| Function: | |
| Usefulness: | |
| Value: | |
| OVERALL: | |
Offer Validity
Currently: $27 – Lifetime
Enjoy!