Hi Folks…
We've been taking a look at VidCuratorFX, which is a new video tool that lets you automate video creation by just entering a keyword.
What this means is that it's easy to quickly create 100s of videos for each niche. If you're not creative, no matter. The software works autopilot after a quick setup.
OUR VERDICT: APPROVED
Who This is Useful For
This is mostly for people who want to rank on Google and YouTube for particular niches, so it's great for affiliates or other internet marketers wanting to drive traffic.
The mass video production is geared towards dominating a niche by creating 100s of videos in just a few minutes.
Currently: 💲29.95 – using the coupon vipoff.
Here's how it works:
Choose if you want to create 1 or multiple videos and enter a keyword you want the video to be about.
Customise. Add you text, logo, watermark, lower-third, background music, voice over, Text-to-speech, images, videos, filters, transition-animations, intro and outro slides etc
Export as a FULL HD Or Square HD (for FB) video and automatically share on FB or YouTube.
And all the videos it creates are geared towards ranking and getting you traffic to your offers.
What We Really Think…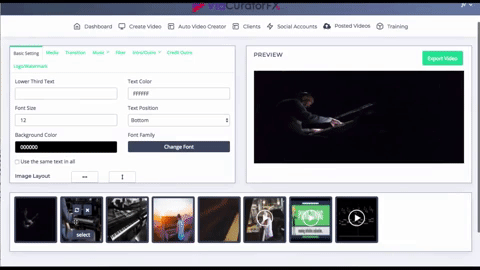 Video is a big thing and people wishing to drive traffic to their sites have been using it for some time. It ranks well and it appears in both Google and YouTube, the two big search engines.
But keeping up with the freshness needed for each video can be a pain. You have to make a lot of videos to keep up with what's known as the YouTube Tread Mill.
That's where this tool really comes in because you can create a lot of videos for one niche or campaign and then drip-feed them to YouTube to keep your information relevant.
The process of creating the videos is very straightforward, it takes videos and images from its internal library and puts them together based on your chosen keyword.
The images aren't always as accurate as you would like but they're not bad and the content of the video is acceptable. They render at full HD, so the quality is no problem at all, or you can set them for Facebook size quickly and easily.
There's no doubt that you can produce good quality video with this tool and the ability to add transitions, text-to-speech, music and, of course, your links to it makes this a product worthy to look at.
What You Get With This Product…
❖ 500 Renders per day
❖ Create Auto Videos
❖ 40,000 Images in ImageLibrary
❖ 5,000 Video Clips in VideoLibrary
❖ 650 Background Music in MusicLibrary
❖ 1,000 Professional Fonts in FontLibrary
❖ Text – to – Speech with 50 Voices & Accent
❖ Multi – Lingual
❖ Publish on YouTube
❖ Publish on Facebook Pages, Groups & Profiles
❖ Create Square Videos for Facebook
❖ Advanced Tracking & Stats
❖ No Monthly Payment
What We Liked:
✔ Domainate niches by creating multiple videos
✔ Quickly produce customer-spesific videos
✔ Big library of music, videos and images
What We Didn't Like
✘ There is a possibility to use this to spam YouTube, which isn't the best idea
Our Verdict
| | |
| --- | --- |
| OUR VERDICT: | |
Enjoy!