Hi Folks,
This is pretty amazing. You can add clickable interactions on your facebook videos…
What that means is that your video becomes an interactive experiance with video overlays, op-in boxes and high-converting calls to action.
This is the power of video with instant engagement.
Here's what it does…
❖ Use videos from youtube Vimeo and daily motion.
❖ Choose from 8 different mockups.
❖ Add call to action on your videos.
❖ Add scarcity timer to the call to action.
❖ Add banners to your videos.
❖ Add option forms to your videos.
❖ Add clickable calls to action.
… All straight on your Facebook Page!
VidEntice is going on sale today from just $27. If you can't do this with your videos, then this is a no-brainer.
Product Review:
The problem with videos when you put them on to Facebook is that, whilst they might be engaging, they don't always follow the best path for a marketing tool.
This is the problem that VidEntice seeks to resolve with a suite of tools that allow you to add overlays, calls to actions, scarcity timers and opt in forms to your Facebook videos.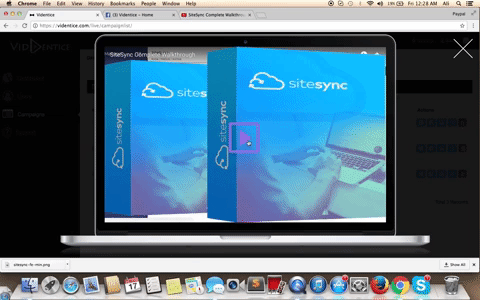 What this does is, essentially, turn your Facebook videos into clickable marketing tools that will help you gain leads and sell items.
The difference with this tool is that you can also add a new tab to your Facebook page that will allow you to display your video in the best possible way.
For those of you who only want to use this on the website, that option is still available for you via a I-frame link that you can easily copy and paste into any HTML page.
When you first open up the software and create a campaign, you are presented with a list of sections which you can fill in to ask different elements to your video.
You can add as many or few elements as you wish that each element is geared towards you either making that sale of getting that lead.
Powerful opt in forms also allow you to collect leads through the videos that you create. These work by giving you different templates to choose from and then allowing you control over the text for every element.
Whilst the software doesn't connect to as many auto responders as I would have liked, the option for most of the big ones are in there already.
We've reached a point where video marketing has become the cornerstone of any good digital marketing campaign. The fact is, you need to have compelling video marketing in place because otherwise you are leaving money on the table. What this software does is allow you to provide that video marketing with clickable interaction, which is not the standard way that people are doing this. That means you are more likely to stand out from the crowd and, thus, more likely to have a benefit from the videos that you produce.
VidEntice is a great way to get your videos seen and give your users a little bit of interaction that makes them already starts to connect to your brand.
Product Highlights:
❖ Add share icons on videos
❖ Select 6 Different Mockups
❖ Add calls to action
❖ Add Like buttons
❖ Lead generation with opt-in forms
❖ Share video to Facebook Tab
❖ Generate Iframe Code for adding to HTML
❖ Redirect on video finishing
❖ Add banners to videos
What We Like:
✔ Very easy to use/set-up
✔ No need to connect yet another Facebook App
✔ Gives your videos real
marketing features
✔ Plenty of features to 'entice' your customers to click
✔ Video redirection works really well
✔ Easy to add to HTML page too
What We Didn't Like
✘ Only works with a few autoresponders so far
Our Verdict
| | |
| --- | --- |
| Simplicity: | |
| Quality: | |
| Function: | |
| Usefulness: | |
| Value: | |
| OVERALL: | |
Offer Validity
Currently: $27
Enjoy!