Hi Folks,
We've been telling you how good video is for conversions and engagement for a while.
But, what if you could take that to a new level with interactive videos that gave your viewers a choice about what they saw? Now you can.
Interactr is a new tool that creates video sales funnels using interactive videos. In fact, the technology has already been used to increase conversions, engagement and ROI.
It does this by letting you add interactive buttons, calls to action and popups to any video you want.
You can even make someone give you their email during the video, as it's attached to several of the top-autoresponders.
But the best thing about the software is that it allows you to add multiple videos to one project and create menus between the two.
By adding hotspots to your video, your views can be asked questions and then taken to the content that is most relevant to them. It's a pretty smart idea.
Interactr is available now in two different flavours, the 💲52 personal license and the commercial license for a little more, 67 bucks.
But, if you want to lock in this low investment, please make sure you grab this now as the price is increasing on a regular basis.
This is one of the smartest tools I've seen this year. Don't miss out.
Product Review:
Interactive videos have been around for a long time but if you wanted to use the technology you either had to rely on YouTube (which has stopped allowing you to do this now) or paid a premium for the ability.
Enter Interactr, a new tool that gives you the ability to set interactive videos up using a graphical interface which means no heavy coding and a slick, easy to use experience for all.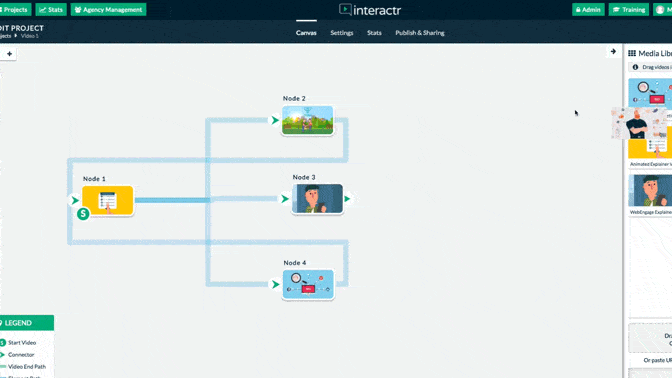 Logging in to the software, you are presented with the option of creating a new project. Commercial users can create as many projects as they want and, by clicking on the add button, you're taken to a template selection.
This is not like the template selection of other video creator apps, as this one lets you select from a smart, pre-made video funnel.
Each of these funnels has been created to aid conversion and to allow your customers to choose the content they want to view. This is where the magic happens.
You can add any video to the software, either from your desktop or from a service like YouTube or Vimeo. That video can then have various buttons, popups, text and images added to it in order to help increase conversion. It can also link to other videos you have added in your project, creating a DVD menu like experience for your customers to enjoy.
The process of setting all of this up is very simple and there is plenty of training included to help you get the most out of the tool. There is also a video showing you how this can be used to make you money.
Interactr is a genuinely interesting tool that uses proven methods to help you create income making videos for your (or your clients) businesses. It's probably the most innovative tool I've seen this year and Ryan Phillips, the creator, has built a reputation for software that absolutely delivers.
Product Highlights:
❖ 1st affordable interactive video suite
❖ 3 Interactive Projects (personal) or unlimited on the commercial version
❖ Built-in Behavioural Dynamic Response Technology
❖ Unlimited usage rights in personal videos
❖ Basic templates and analytics
What We Like:
✔ Very smart idea for getting users to interact with videos
✔ Plenty of options for smart marketers to use this
✔ Good, solid training to take you through the basics
✔ Detailed analytics
What We Didn't Like
✘ Doesn't integrate with enough autoresponders
Our Verdict
| | |
| --- | --- |
| Simplicity: | |
| Quality: | |
| Function: | |
| Usefulness: | |
| Value: | |
| OVERALL: | |
Offer Validity
Currently: $52
Enjoy!