Hi Folks…
We've been taking a look at Live Event Blaster 2which is a tool that lets you use YouTube live to stream in order to rank your videos.
What's great about this tool is that it lets you set up multiple events that will stream 'as live' and have a good chance of ranking in bothGoogle and YouTube.
Because you set so many of these up at once, you can play with the keywords and titles to make sure you get the best-optimised video for your niche.
OUR VERDICT: APPROVED
BUYER ADVICE: Currently a low price for a product that can help you gain rankings (and traffic) quickly and fairly easily.
Who This is Useful For
This is really a traffic tool and it's great for online marketers or local businesses to rank videos for their specific niche.
It also includes some other tools that help you optimise the video's description for your specific terms.
Currently: 💲27 Earlybird – sale ends on 16th of April
(Links to upgrades are available bottom of this mail)
But the best thing about this tool is that it monitors the rankings of your videos and you can set it to re-stream your video if those rankings slip.
You can also automatically generate hashtags, authority links and video linkwheels so that your videos promote each other.
Full Review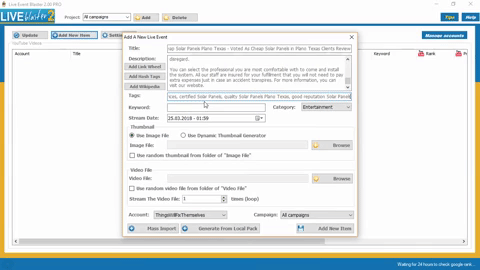 We looked at Live Event Blaster when it was in its first incarnation. It is one of many tools that allows you to stream videos from your computer to YouTube as if they were live.
The benefit of this is that setting up the live events with well-optimised meta tags will get you ranking not only on YouTube but on Google as well.
All of these tools make it easy for you to set up these live events and Live Event Blaster is no different. What you do get here, however, is a tool that has been re-thought from the ground up.
It still features all of the benefits of bulk-creating live events (such as testing out keywords and niches) but adds in options that allow you to automatically generate content for each video to help it rank (such as hashtags, linkwheels and Wikipedia links).
The desktop-based software gives you the ability to set up hundreds of these live events in bulk and will even randomly stream a video from a folder as the source for the event if you wish.
But what's really catching the eye here is the persistent ranking technology. Most videos only have a short shelf life and YouTube is changing rapidly. This is called the YouTube Tread Mill.
Live Event Blaster allows you to skip over this problem by re-playing well-performing videos as new live events when the rankings start to slip. What's more, it will do all of this on autopilot.
This is quite a smart piece of kit which can find a home in any marketers kit bag. If you're looking for traffic, this is a great place to start.
What We Liked:
✔ Simplifies the ranking and posting process for live events
✔ Proven technology (this is version 2)
✔ Proven method for video ranking
✔ Persistant technology is something we've not seen before
What We Didn't Like
✘ You need to leave this (and your computer) running to get the best benefit from it.
Our Verdict
| | |
| --- | --- |
| Simplicity: | |
| Quality: | |
| Function: | |
| Usefulness: | |
| Value: | |
| OVERALL: | |
Enjoy!