Recurring memberships is the economy of the future. There are a lot of products that help you build membership sites but none are as fast and easy to use as JVZoo Member.
With JVZoo Member, everything is done for you. You don't have to worry about server security, landing pages, payment integration, all of which can drain your time & resources.
All you do is provide the course material. The platform comes with a drag & drop page builder and several templates to cover the look of your course, the sales & offer pages.
You also have access to a raft of integrations, from your favourite autoresponders to payment gateways (this is not limited to selling on JV Zoo), webinars, file hosting & more.
OUR VERDICT: APPROVED
OUR RATING:
Currently it's 💲47 – 💲67 month or yearly w/discount – Solves all the problems with selling memberships. The deal is available until: 3rd Septermber – (price rises through the sale)
N.B The yearly option (the lowest price) will be gone after September 3rd, so lock that in now to get the best deal.
Quick Review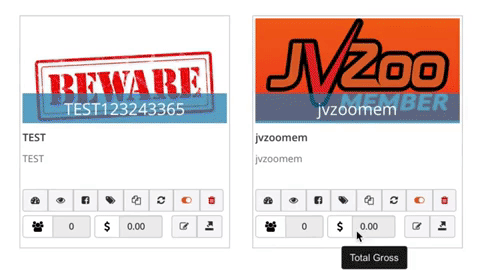 You can see our video review above but there are a few things worth noting here as well. This is a fantastic platform with thousands of hours and dollars spent on development time.
Because of that, it really does solve every single problem new (and even more experienced) course providers face when trying to deliver content.
Everything has been thought through here to provide a simple platform for you to use. You get to create 10 different memberships (think of that as 10 different websites or brands) and sell an unlimited amount of courses through each.
Now, some people were worried that you would only be able to sell courses through JVZoo. That's not the case, it also has PayPal integration so you don't even need to touch the JVZoo platform if that's what you want.
And beyond that, the platform comes with quiz and gamification settings that you just don't find in any other platform of this type.
In fact, we put this up against Everleasson, which is probably the only thing to really rival it. With Everleasson you'd have to pay 97 bucks a month before you reached the same level of 5000 registered members that you get with JVZoo Member.
We also compared it to Product Dyno. Now, I loved Product Dyno when we reviewed it last year but it doesn't contain the same features, quizzes, pages builders, gamification that JVZoo Member does.
So, you're getting a platform here that is cheaper than all of its rivals, gives you more resources to play with and makes the process of setting up a membership a doddle.
What's more, there are no upsells on this product. You're not going to purchase only to find out you'll have to buy an upgrade to get a particular feature. Everything is included in the price.
If you're even considering running a membership site, you should grab this today. This isn't a fly-by-night WordPress plugin, this is something special and something that will only cost more in time.
What You Get
❖ Effortlessly convert one-time buyers into long-term customers
❖ Include as many products as you want
❖ Quickly turn any product into a long-term stream of passive profits
❖ Save thousands on expensive developers, copywriters & hosting
❖ Position yourself as an authority figure, customers will buy from again & again
❖ Include resources such as external urls & downloadable files
❖ Upload video or audio files from any source
❖ Provide "action blocks" to walk your customers your course
❖ Creates all the links, menus & even 'related modules' for you
❖ Drag & Drop modules in any order to present your course in perfect sequence
What We Liked:
✔ Very fast membership creation
✔ No need to worry about the technicalities of setting up a course, it's all done for you
✔ Nice set of designs included with the package
✔ Simple drag & drop editor for easy sales page/order form creation
What We Didn't Like
✘ Not the cheepest option out there but certainly the easiest way of creating courses quickly