With WP Profit Builder, you get all of the best features of LeadPages for a fraction of the cost.
This product launched last month and we've had a bit of time to play with it now and it is amazing. You can create any sort of page for your website you want. You have a host of features. It really is a contender to the throne.
To put this in to perspective: We all need a leadpage generator but LeadPages costs you a staggering $948 per year. For only $149, you can get that same functionality.
That's an 84% saving. Just think what you could do with that extra money.
Right now, Cyber Tactics have managed to secure a special deep discount for our readers. You can get a whole $50 off the cost of the professional licence. That makes it even better value (90% cheaper than LeadPages)!
Head on over to https://cybertactics.net/go/wpprofitbuilder/ and use the code pbrocks2017 to get started today.
Product Review:
I have been using version 1 of WPProfitBuilder to create LeadPages for some time now so I was excted to see what was in version two.
The plugin is easily installed on to any WordPress site and you're then given the option to choose from a large selection of template (over 130). These templates are the real power of the plugin, giving you a fill-in-the-blanks template for your own sales pages.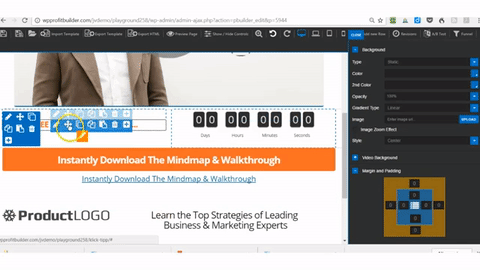 Beyond the templates, you're confronted with a rather nice 'Drag & Drop' interface that lets you layout your pages however you want. You can see your changes straight on streen and so you're never unsure about what the page will look at (or have to flip between windows to check).
But the builder is just the heart of the plugin. Some of the new features bring amazing testing and tracking functionality to the plugin. You can now A/B test your pages by creating two different versions. The plugin then shows one or other versions to your visiters and you can track which of the pages has been more successful.
Not only that but there is excellent click tracking built in as well, which makes their new funnel builder work all the better.
WPProfitBuilder was a really good tool for building LeadPages when there wasn't much else around. With the addition of these new functions, the plugin really has hit a high point. This really is a LeadPage beating piece of software.
Product Highlights:
❖ Over 130 Included Templates, that a proven to convert
❖ Lets you create and track funnels with the new Funnel Builder
❖ Completely Mobile Responsive
❖ A/B Split Testing included
❖ Build any page in minutes
❖ Works Seemlessly With Your Existing Site
❖ Blazingly Fast Load Times
❖ Seamless & Easy Integrations
What We Like:
✔ Solidly built platform for delivering your lead pages
✔ All of the content is optimised for SEO
✔ New E-Commerce support and Funnel Builder
are excellent
✔ Fast loading times (a must if you want to optimise your pages)

What We Didn't Like
✘ Not much has changed in looks
✘ Sometimes the interface can be a little clunky
✘ It does require WordPress to be set up

Our Verdict
| | |
| --- | --- |
| Simplicity: | |
| Quality: | |
| Function: | |
| Usefulness: | |
| Value: | |
| OVERALL: | |
(https://cybertactics.net/go/wpprofitbuilder/)
Offer Validity
Currently: $99 – Use Coupon pbrocks2017 on the professional licence
Enjoy!