Hi Folks…
Today we're looking at a new tool for online shop owners, Snapify. It creates a gallery of "Shoppable Images" which you can post on social media.
Shoppable images are images that link directly to a product and include calls to action, videos, email signup forms and even add to cart buttons.
What's great about Snapify is that you can not only create the galleries but you can post them on social media, directly from the tool, with scheduling built in.
OUR VERDICT: APPROVED
BUYER ADVICE: Robust platform, lots of features, proven to increase sales.
Who This is Useful For
This is great for shop owners who want an easier, more effective way to share their products across social media.
In fact, brands like Billabong, Killstar and Kookai are already using shoppable images to drive sales.
Currently: 💲24 Earlybird Using Coupon early12off – sale ends on 2 PM EST
With Snapify, your shoppers can add to cart, directly from your images. You can schedule the platform to auto post on up to 13+ social media platforms.
You can also embed the galleries into your own website so you can target each of your visitors with these powerful features.
It even comes with WordPress and WooCommerce integration built in.
Full Review
Everybody wants engaged shoppers on their site. Snapify aims to deliver this with highly-engaging galleries of 'shoppable images'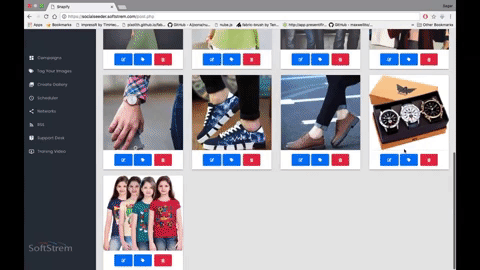 What Snapify really is, is a simple yet smart visual marketing tool. It uses hot spots, calls to action and other media (such as videos or sign up forms) to engage your buying audience in an innovate new way.
It does this by setting up galleries of images as a web page. Those images contain links to the actual products on your website and can even be used as a direct sales tool, using the "add to cart" option.
Each image produced can target more than one product with clickable hotspots that place a small mark on the products. These marks take your shoppers to more information about the product, more images, video, whatever you wish.
It really is something to see in action and obviously works as there is a large uptake in images like this.
Setting up the images is very simple. The software scans your account for any posted images and then displays them for you. You then get to choose if you want to use them to sell and how to do that. You can add buttons, images and hot spots to them at this point.
Once crated, your galleries can be displayed on your website or on their own page. Built into the tool is also a social media publisher, which can schedule posts or send them out straight away, the perfect way to share your image galleries.
This is a really simple tool to use and there is nothing to install or host. The product creators claim that this works in any niche and, whilst I'm not sure that is totally correct, you will be hard-pressed to find one that it does not work at least to some extent in.
On the whole, there is a massive benefit in using this tool, especially when people are shopping online for physical products and need to see as much information as possible before they buy.
You Also Get Direct Integrations With…
❖ WordPress
❖ WooCommerce
❖ Magento
❖ PayKickstart
❖ Shopify
❖ Warrior+Plus
❖ JVZoo
❖ Optimise Press
❖ Click Funnels
❖ Leadpages
❖ Unbounce

What We Liked:
✔ Great way to engage customers
✔ People love images and galleries, they also love shopping online
✔ Hot Spot technology draws attention to the important parts of the image
✔ Added scheduling for 13+ social media platforms
What We Didn't Like
✘ You can't post the shopable image directly to social media
Our Verdict
| | |
| --- | --- |
| Simplicity: | |
| Quality: | |
| Function: | |
| Usefulness: | |
| Value: | |
| OVERALL: | |
Enjoy!